Artificial Grass and Lawn in Alabama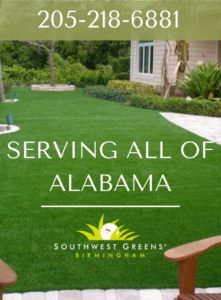 Southwest Greens artificial grass and lawn products can simulate the look, feel and performance of natural grass in virtually any home or business environment and under the most extreme soil and weather conditions. Southwest Greens artificial grass lawns for your home are extremely durable and can withstand extreme temperatures.
Our artificial grass is designed and installed to perform in hot, cold, wet and dry climates. Southwest Greens artificial grass is the ideal, durable alternative for grassy areas that take a beating from heavy use, or places that are particularly difficult to maintain under normal conditions. Our artificial grass never needs to be mowed, watered or fertilized and looks great year-round.
Our Southwest Greens artificial turf and synthetic lawn grass installations are suitable for residential and commercial locations. With years of experience, our expert designers start each installation project in the same detail-orientated and meticulous manner, and we are dedicated to constructing for you the eye-catching artificial lawn of your dreams! Our faux turf is engineered to endure even the most extreme summer and winter temperatures, plus they are extremely low-maintenance.
A Few Of Our Recent Local Projects
Call 205-218-6881 or contact us online if you would like to learn more about our affordable installation services.