ARTIFICIAL GRASS AND GOLF PUTTING GREENS INSTALLATION SERVICES IN MONTGOMERY
At Southwest Greens, our years of experience in the artificial turf lawns industry have led to countless satisfied customers. Our Montgomery, Alabama artificial grass and golf putting greens installation team is committed to transforming residential and commercial spaces - both inside as well as outdoors - into stunning recreational areas with lush, eco-friendly synthetic grass fibers. Forget about the fake grass of yesteryear; our premium synthetic lawns leave those jagged, ugly, bumpy faux turf applications from past decades in the dust!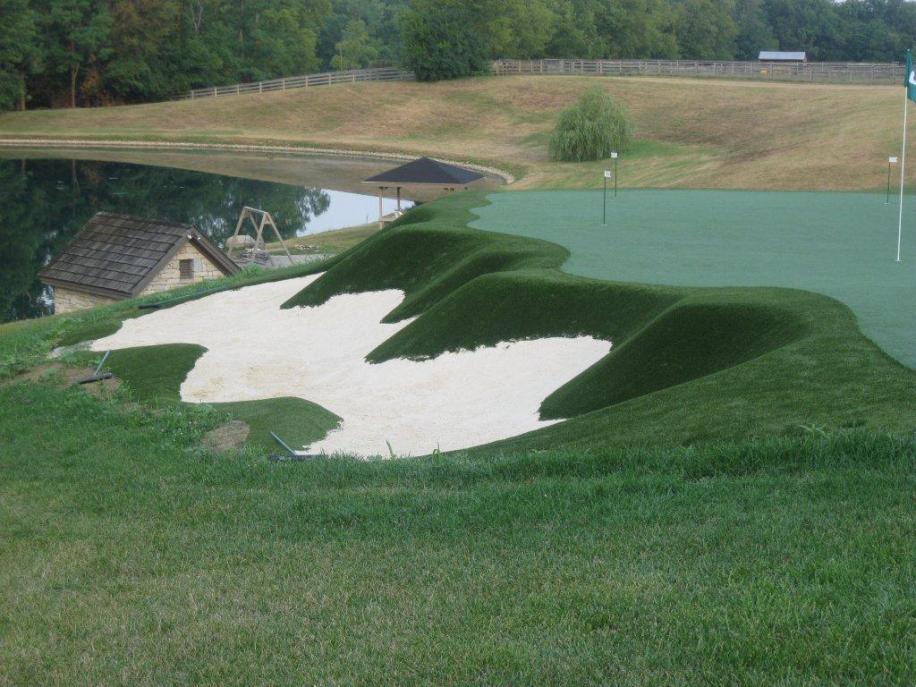 Imagine how amazing it would be if your home's front garden and backyard lawns always looked immaculate without you having to do much in the way of continuous upkeep. For example, think about how much watering, mowing, edging and re-seeding the typical residential lawn needs to look spotless all year round. Many Montgomery homeowners love artificial grass applications because they don't have to work so hard for a great-looking lawn. The Southwest Greens team also installs putting greens and tee lines for residential areas, as well as backyard pet turf runs.
But that's not all! Not only do we specialize in the design and installation of synthetic turf products for residential locations, but we also install many types of commercial applications, including the following:
Commercial golf putting greens and tee lines
High-quality synthetic sports turf for schools and universities
Long-lasting playground turf
Relaxation areas for apartment buildings and office complexes
Commercial artificial grass turf for dogs in pet boarding facilities, doggy daycare centers and dog show auditoriums
Our durable artificial golf putting greens offer true ball roll and are popular with amateur golfers, as well as seasoned professionals; many of the top 25 PGA pros have had our gorgeous putting greens installed within their homes!
Our products are made from advanced 7600 denier polypropylene turf fibers that can tolerate scorching temperatures and heavy foot traffic
Alabama residents love that our synthetic turf products don't require insecticides or any other harsh chemical products to keep them looking full of life, plus they are 100 percent child- and pet-friendly. Southwest Greens Birmingham installs state-of-the-art turf in many cities, such as Talladega, Huntsville, Montgomery, Auburn, Decatur, and Tuscaloosa.
If you are interested in golf practice putting greens, tee lines or synthetic lawn products around Montgomery, call 205-218-6881 or contact us online today to request more information? FREE design consultations are available, and our team will work with you to create a fully customizable design that caters to budgets of different sizes and locations of all types, from small residential properties to large-scale commercial facilities. For the hardworking Southwest Greens team, no job is too time-consuming or complicated!